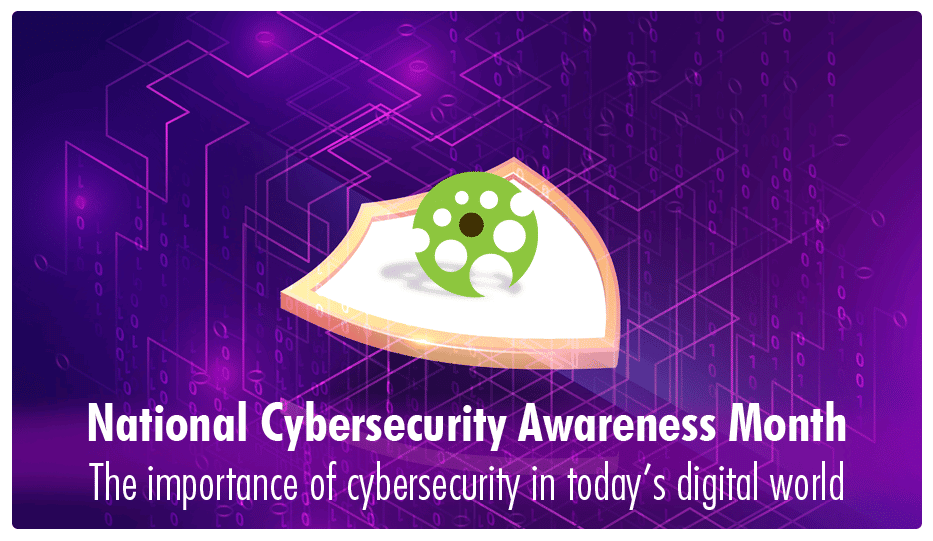 It's National Cybersecurity Awareness Month
NCSAM is an internationally acclaimed awareness drive celebrated to promote the growing importance of cybersecurity in today's digital world. Held each year in the month of October, NCSAM is a mega-event observed across nations. It started with the primary intention of making the citizens of Canada and the USA more educated on the topics of personal safety, workplace practices and overall online presence. However, seeing the speed with which things are going online and digital, NCSAM has the potential to easily cross borders and be celebrated worldwide.
What does this event entail?
There are themes related to Cybersecurity for each week of October. The primary focus is personal accountability for online security. This includes taking strict actions for social media privacy, getting current knowledge in cybersecurity trends, and general awareness on the scams and attacks carried out by hackers and intruders.
As an individual, do I need to worry about NCSAM?
The short answer is yes. The entire purpose is to bring cybersecurity to an individual level. The common misconception is that cybercrimes are often perpetrated against multinationals and huge corporates, but this is simply not true. Awareness is perhaps the only preventive measure to cyberattacks. The highlight of NCSAM is the slogan statement: 'Own IT. Secure. IT. Protect IT.'
What are the themes of NCSAM?
NCSAM is a combined initiative by government and industrialists to spread awareness about the critical nature of cybersecurity and to ensure that all Americans have the resources they need to be safer and more secure online.
NCSAM 2019 emphasizes personal accountability and highlights the importance of taking proactive steps to enhance cybersecurity at home and in the workplace. The themes of NCSAM will focus on domain areas including citizen privacy, consumer devices, and e-commerce security.
Basics of Cyber Threats
Basically, a cyber threat is a means to find a security hole in some aspect of your online presence in order to steal sensitive information, gain unauthorized access, or corner you in an unfavourable situation through blackmail and extortion. NCSAM focuses on educating the masses on relevant technological terminologies and buzzwords.
The Negative Impact of Cyber Attacks
Cybersecurity surveys in Canada and the States exposed a growing trend towards storing huge personal data on the internet. From credit card info to routine personal interests, almost every detail goes onto the internet these days. Cybercriminals work in the background, adapting their tools and attacking techniques to fit this changing trend. The sheer volume of the data you put onto the internet leaves you vulnerable to any number of cyber-fraud attempts or security breaches.
Methods of Self-Protection
Through the course of NCSAM, government departments and industrialists alike disseminate information regarding good online security practices, unbreakable social media privacy settings and sound personal safeguarding tips. You learn about perfect password strategies, fake phishing and scam messages and the fraudulent urgency factor that is so rampantly exploited by cybercriminals to get you to fall for the act. You will also learn how to keep yourself safe as an individual AND protect your business at the same time through the use of domain-wide tools, Across-the-device subscription services and workstation security patches for all machines in your organization.
What is the takeaway?
News travels fast. Since its conception in the above-mentioned foreign nations, the NCSAM has proved plenty beneficial to small businesses and individuals alike. This Awareness initiative is a joint venture between Government Agencies and cybersecurity enthusiasts working towards cyber safety. India is not too far behind when it comes to data storage on the internet. There are reports occasionally, of banks getting attacked, credit cards being misused, identities being stolen. Is it not high time India takes an initiative in such drives and campaigns? We are advancing in every other aspect of technology at a rapid speed. Let us also participate in awareness drives, companies and government agencies alike.
Logix Infosecurity is all about going the extra mile towards online security. Since 1999, we are a committed and acknowledged provider of managed services, solutions and products in the Cyber security space with a dedicated team of nearly 20+ professionals supporting Business enterprises across PAN India from Banks, Government entities to Financial Institutions. With a strong focus on research and innovation, we have built extensive capability around Big Data for Security Analytics, Response, and Security Automation. Our prime focus lies in managing & deploying NGFW solutions of multiple OEMs. We manage over 1500 + SMB/Mid-Enterprise / Enterprise Customers, providing constant monitoring & handhold support 24*7*365.
We are always open to connect with like-minded people of the industry, so feel free to drop by anytime. You can view our cybersecurity services here.