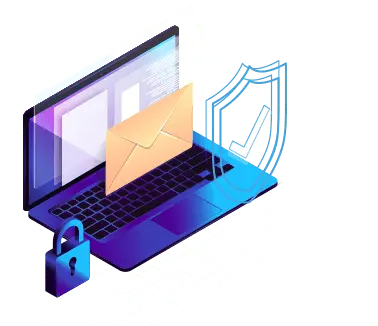 Cisco IronPort
Logix offers Cisco IronPort email security Advanced Threat Protection (ATP) as a service to protect your business and users from any form of email threats.
A dedicated Cisco Email Advanced Threat Protection (ATP) is hosted and supported by Logix at its multiple data centers across India. Our setup assists you with logging, reporting, and stringent threat policy implementation as per your organization's needs.
Bundled services: DMARC and bulk mail
As a value addition, Logix has bundled DMARC and bulk mail services with Cisco Email ATP to create a comprehensive offering. This helps you maximize brand protection and improve email deliverability.
DMARC
DMARC is an essential part of email security that helps your organization get complete clarity and control over all your email channels and also improves your email deliverability. A powerful tool like DMARC prevents email domain spoofing/impersonation and phishing attempts.
Bulk Mail
This feature facilitates users to send bulk emails i.e. emails containing similar content to multiple external domain recipients. Cisco email automatically detects these bulk emails and routes them via the Logix VolumeMail SMTP gateways thereby avoiding IP throttling or blacklisting of your designated Cisco email gateways.
Highlights
Cisco Email ATP uses Cisco Talos intelligence to quickly identify threats and actively combat them.
It provides comprehensive email protection for Microsoft 365.
Business email compromise

Cisco Email ATP provides BEC detection capabilities using real-time behavior analysis and advanced machine learning to prevent breaches. It provides enhanced protection against CEO fraud/whaling and similar attacks.
Behaviour analysis – Advanced Malware Protection (AMP) analyzes emails for threats such as zero-day exploits hidden in malicious attachments.
Cisco Email ATP gives you advanced protection against spear phishing, ransomware, and other sophisticated attacks.
AMP continues to watch, analyze, and record email attachments, regardless of the file's disposition.

URL rewriting

The URL filtering service "rewrites" and performs checks on certain URLs in inbound emails.
Rewriting allows Cisco to access the URL destination to validate that it is non-threatening.
Any URL that is rewritten is checked every time an end-user clicks on it, to ensure the URL destination is not hosting malware, phishing, or spam threats.
Threat detection also auto-adjusts based on URL reputation and URL category.

Domain fraud detection

Cousin domain – A security feature to identify cousin domain spoofing instances for the domain name which could be easily misspeled to make it look like an authorized/original domain.
Domain age – Cisco Email ATP will also identify lookalike domains which are registered recently and are trying to launch an attack.
Domain reputation – provides a reputation verdict for inbound emails based on the sender's domain.

Safe print

Cisco Email ATP provides a safe view (safe-printed PDF version) of a message attachment (Microsoft documents) that is flagged as malicious or suspicious.
The safe view of such a message attachment is delivered to the end-user and the original attachment is stripped from the message.
This way, malicious attachments never get into your system.

Email data loss prevention

Cisco's advanced security ensures it controls, monitors, detects, and blocks unauthorized flow of information from the organization.

User registration

Seamless integration using on-premise Active Directory / LDAP / SMTP Call-Ahead and Azure Active Directory Domain Services (AD DS).

Reports

Insight discovery and customized reports to track messages or view quarantine information.
Cisco Email Security Features
With the substantial enhancement, Cisco Email ATP uses Cisco Talos intelligence and Machine learning to quickly identify threats and take the required actions.
Cisco Email ATP security solution provides comprehensive email protection for Microsoft 365.
Comparison of Cisco Email ATP with other brands
Comparison of Cisco Email ATP with other brands
| | | | | |
| --- | --- | --- | --- | --- |
| | Cisco Email Security | Microsoft Exchange Online Protection (E3 - E5) | FireEye Cloud Email Security | Symantec Cloud Email Security |
Talos: Access to the world's largest threat database at no additional fee

External threat feeds (STIX and TAXII)





STIX and TAXII are not available for customer implementation.

Limited




Only if SEG is licensed to participate in the Integrated Cyber Defense Exchange.

Cross-enterprise threat investigation and response

Limited




Only cloud-based forensics is available with E5 licensing.

Limited

Symantec Deep Insight is a separate subscription service with restrictions on usage link
Advanced phishing protection

Domain protection

Limited

Email Fraud Protection does not offer the same level of service.

Web interaction tracking

Scanning URLs in attachments

Limited

No scanning for non-Microsoft documents.

Shortened URL scanning

Anti-phishing, malicious URL detection, and AMP (in base offering)
| | | | | |
| --- | --- | --- | --- | --- |
| DMARC | | | | |
| Bulk Mail | | | | |
| | | | | |
| --- | --- | --- | --- | --- |
| DMARC, DKIM, and SPF analysis | | | | |
| Sender domain reputation filtering | | | | Symantec only offers Ironport HAT-like functionality. |
| DNS-based authentication of named entities (DANE) | | | | |
| | | | | |
| --- | --- | --- | --- | --- |
| File retrospection | | | | |
| Retrospective message remediation in a cloud-based service | | | | |
| Macro and file-type filtering | | | | |
Data loss prevention policy solution integrated into email gateway




Limited

No DLP templates, only REGEX.

Sender control of encrypted envelopes via the sender portal
| | | | | |
| --- | --- | --- | --- | --- |
| Dedicated cloud instance service per customer with dedicated IP addresses | | | | |
| Dedicated Office 365 and hybrid solution | | N/A | | |
| Redundant secure email gateways in different data centers for each customer | | | | |
Vendors that provide user awareness training




Limited




No simulated phishing of employees. Only a CBT system.
Need more information?
If you would like to know about this service or need any other assistance, please get in touch with us.
Contact us