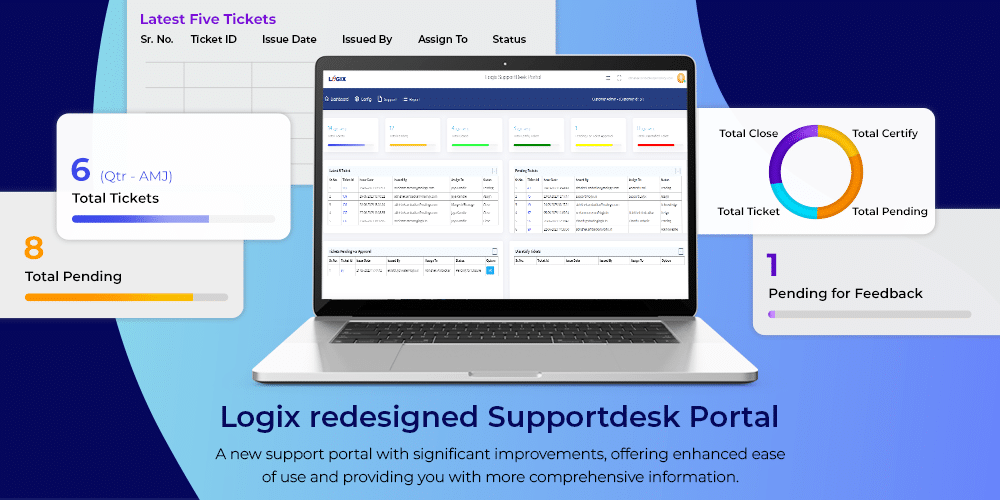 We are thrilled to announce our newly redesigned Logix Supportdesk portal is live.
In our ongoing effort to provide the best possible service, we have completely revamped the Supportdesk interface to offer you enhanced ease of use and a more comprehensive set of features.
Your New Dashboard
With the new dashboard, you'll have a centralized hub where you can effortlessly monitor all your tickets, whether pending, closed, or awaiting feedback. Say goodbye to the hassle of navigating through different sections; now you can get a holistic view of your support status at a glance.
But that's not all. The revamped Supportdesk portal goes beyond a simple dashboard. With the new configuration options, you can easily manage your customer profile details and even add a new admin. Additionally, you'll have access to a comprehensive view of the services you have purchased, empowering you to stay in control of your support experience.
We believe that this data-driven system will significantly improve efficiency and streamline your support interactions with Logix. With features such as ticket analysis, performance insights, and feedback reports, you'll gain a better understanding of your support journey and have the tools to optimize it.
Raising a new ticket
Regarding raising queries or reporting issues, the SupportDesk is your go-to platform.
You can effortlessly create a new ticket or quickly search for existing tickets using their unique ID numbers to check their status. This streamlined process ensures that your support requests are efficiently handled, allowing for prompt resolution and smoother communication.
Video Guide and Reference Manual
To aid your understanding and utilization of the revamped SupportDesk, we have a manual in the works and a demo video.
The manual will serve as a comprehensive guide, walking you through all the features and functionalities, while the demo video will give you a sneak peek into the portal's capabilities.
Check out your new support portal
Remember, all your support queries, issues, or requests should be raised exclusively through the SupportDesk. This centralized approach ensures that we can provide you with the highest support level and promptly address your needs.
The Logix SupportDesk portal is about to transform your support experience, making it simpler, more convenient, and more efficient than ever before.