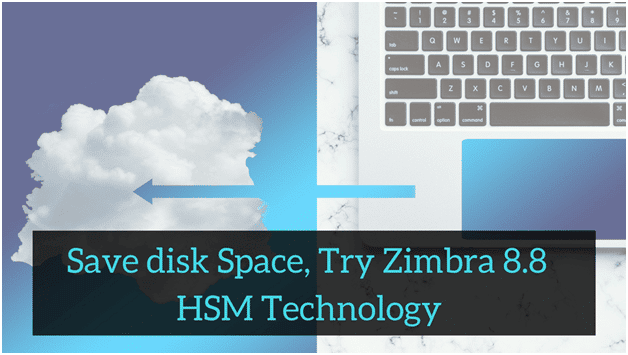 With Zimbra 8.8 HSM technology you can easily compress items and save precious disk space. This option can be easily enabled on zimbra store. There are host of other features which make the Zimbra 8.8 HSM technology worth upgrading-
What's new in Zimbra Collaboration 8.8 HSM-
Live storage capacity expansion- Expand your storage with no downtime or file system operations.
Operations scheduling- HSM operations can be easily configured and scheduled through the Zimbra administration Zimlet.
Multi-policy HSM- Zimbra backup requires a very basic configuration to start.
Secure Operations- Every bit stay intact until it's perfectly safe to move it.
Attachment indexing- Broaden clients search function.
Amazon S3 and HTTP storage- Reduce your TCO by storing secondary volumes on Amazon S3 with an easy-to-use GUI and native support for infrequent access storage.
Store management tools- Configure and manage multiple Zimbra primary and secondary milestones.
There are a host of business ready components in the version-
New Realtime Backup with 6 restore options: No data loss during backup, and new de-duplication technology results in up to 50% saving on storage space for backups.
Enhanced Mobile synchronization: Now users can sync Zimbra shared items on mobile devices.
New HSM and volume management options: Reduce your current Zimbra storage by up to 50% for an enormous cost savings.
Improved, easy-to-use Delegated Admin: Create a delegated admin in minutes, and enjoy increased reporting functionality and more CLI commands.
Zimbra Drive: Improves file sync and share with the addition of an ownCloud/nextCloud server.
Zimbra Chat: Peer-to-peer chat, buddy management and presence built-into Zimbra.
Reconfigured IMAP service: Improves email reliability and SLAs by deploying IMAP as a separate service.
Expanded SIEVE RFC compliance: Provides email admins with more powerful email filtering.
New Ephemeral Data Store: Increases read-write performance and server reliability by storing data store as ephemeral data in SSDB.
To compare-