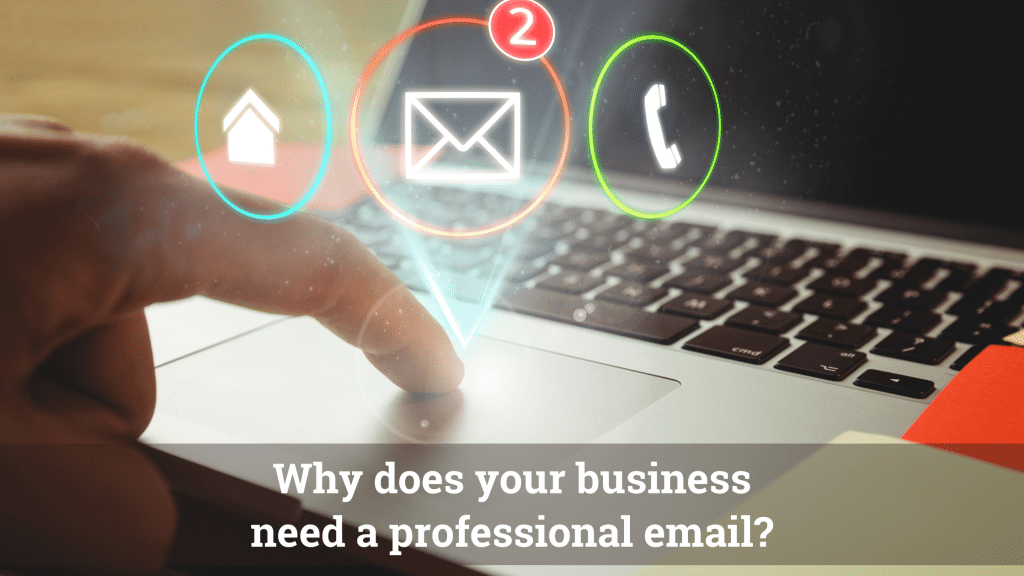 Mailing goes with business operations like hand and glove. Today, sending and receiving emails is visceral part of day-to-day business operations. But what kind of email IDs you use make a big difference to how your business is perceived by peers and professionals. If you're still using free emailing platforms like Gmail, we're going to try and convince you to switch to a professional email. Even if you're  small business, the reasons for switching to a professional email are still going to apply.
What you stand to lose with free email
Perceived professionalism
Whatever follows the @ symbol in your email is your email domain and most often also your business domain name. If that is still gmail.com or yahoo.com or any of the other free emailing platforms, your value in the eyes of those you interact with automatically takes a plunge. No matter how solid your offering is, there's a high likelihood you won't be taken seriously.
Having your business domain in your email automatically elevates your business to a certain level. Nowadays, it's expected from you as an emerging and thriving business in the market. Something feels off if your emails come from a free email domain.
Brand Awareness
Let us face it: attention spans are not so great these days. Any opportunity you can get to showcase your brand is one you shouldn't miss. When every mail from your business comes with a custom domain of your business, you get a chance to remind your prospects and clients about your brand. Over time, your audiences will begin equating your brand with reliability and trust.
Control over email authentication
When hackers and spammers misuse your business name and send emails on your behalf, it's called as email domain spoofing. Fortunately, whether your business falls prey to such attacks or not is totally in your control. With fortified email authentication protocols like DMARC, SPF, DKIM, you can prevent these attacks from ever bothering you. But that is only possible with total control over your email domain. With free emailing platforms, you are completely at the mercy of the email authentication protocols which they deign important enough to implement.
What you gain by switching to professional email
Increased conversion rate
After switching to professional email, you will be able to correctly configure your email authentication protocols so your emails don't land up in the spam folder of recipients. Moreover, third party users won't be able to send emails on your behalf. Customers will inherently place their trust in any email communication from your business.
Moreover, they will look forward to relevant content and notifications from you. This leads to more email opens and more engagement with marketing email. Ultimately, this improves your conversion rate.
Better reach with mobile users
It might be a little bit of a misnomer to classify users as mobile users, because all of us are mobile users. We check emails on our mobile devices. We want notifications and quick replies at our fingertips, so that our dependency on work machines goes down. If your business is using professional email, you have the opportunity to subconsciously keep your brand at the forefront of their thoughts with well-timed updates and engaging content. You could've done that with free email as well, but a majority of those emails might've just landed in the spam folder, to be discovered once in a while when clearing out spam folders.
Improved uptime guarantee
Professional emails are backed by dependable service providers who promise better performance for the money you pay them. They care about your user experience, and want you to give them recurring business. Through that sheer fact, they are motivated to guarantee an unfailing, uninterrupted service usage.
The Perfect Professional Email for your business
Although there are several good and trustworthy emailing solutions out there, not all of them would be a perfect fit for businesses of all scales. This is where Cloud Zimbra Suite takes the trophy because it caters to organizations of all scales.
It comes with a multitude of features for your productivity and collaboration.
The benefit of procuring Cloud Zimbra Suite with Logix InfoSecurity is the automatic layer of protection you get for your Zimbra inbox. Every Cloud Zimbra Suite mailbox is fortified with Cloud Email Advanced Threat Protection, which gives you a secure mailing experience. Cloud Zimbra Suite also fares well when you compare costs with other solutions, making it the perfect all-round mailing solution for your business. To get started, simply drop us a line.