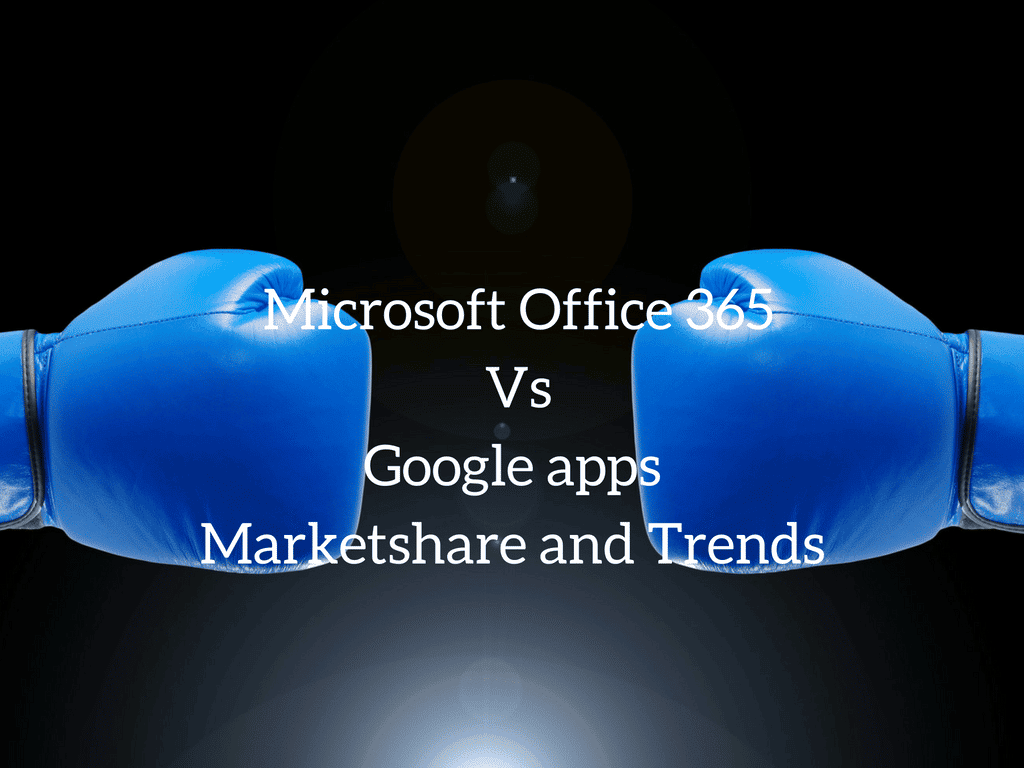 Microsoft Office 365 Vs Google apps who is winning the email battle?
Here in this blog we are trying to capture Microsoft Office 365 Vs Google apps marketshare and trends from different sources data and predictions.
Microsoft Office 365:
Microsoft still dominates enterprise apps. Even our personal life revolves around Google, enterprises still choose .xls or .doc while it comes for business.In a lot of ways, Microsoft Office seems irreplaceable from our digital culture—even as other buzzy services like Slack or DropBox or Trello are gaining traction.
Microsoft is more popular with larger organisations and has more than an 80% share of companies using cloud email with revenue above $10bn according to Gartner report
Microsoft popularity over Google in Enterprise Sector are because of the reason:
Outlook does have more capabilities and  has far more popularity with advanced calendar option that makes it attractive for users, especially within an organization.
Microsoft's biggest advantage is definitely with Excel. This has always been a make or break for companies who cannot wrap their minds around operating without it — especially for Excel power users, who take advantage of its true potential. Google Sheets is functional for those who are not power users; however, it does lack many of the advanced capabilities that Excel offers users.
Privacy agreements are different which made enterprises to adopt office 365 more. Microsoft's privacy policy says they will not scan your data or provide information to third parties. On the other hand Google's Privacy Policy states they can use information they collect from you for advertising purposes.
Google apps :
Google Apps for Work was founded in 2006 but they have come a long way.Google announced in Nov 2015 that it has more than 2 million paid customers using its Apps for Work platform.
Gartner reported that Gmail currently holds 50% of the cloud email market share among smaller companies with revenue of $50 million or less. It has also shown that Google apps are less popular with companies with revenue of $10 billion or more.
However, large companies like Whirlpool, PwC, Uber and hubspot use Google Apps into their environment and  this creates definite buzz among large scale enterprises.
Google's biggest advantage over Microsoft is seen through :
Real-time configuration : It creates more efficiency within an organization and eliminates multiple versions of a document. Users can instantly see the changes to a document made by another user. Microsoft does have a similar configuration, but it is not as simple or efficient as Google.
Gmail has also gained a lot of popularity due to its easy to use functionality for users, making it very simple to manage compared with Outlook. However, Outlook does have more capabilities and provides a far more advanced calendar option that makes it attractive for users, especially within an organization.
Microsoft's biggest advantage is definitely with Excel. This has always been a make or break for companies who cannot wrap their minds around operating without it .Google Sheets is functional for those who are not power users.
Both services start at $5 per month. Microsoft requires a full-year commitment for its enterprise plans, while Google's entire suite is available on a month-to-month basis.
Who is the leading the way : Microsoft Office 365 Vs Google apps
According to Okta's Business@Work 2016 report, Office 365 and Google Apps complement each other in the enterprise.They discovered that a surprising number of Okta customers across all industries are inviting both cloud giants—Office 365 and Google Apps—into their businesses.Survey data showed that over 40% of companies using both Google Apps and Office 365 because different departments prefer different applications, presumably for online collaboration.
So going HYBRID MESSAGING : Combining 2 messaging platforms is the new way to look at productivity suite both for Enterprises and SMBs