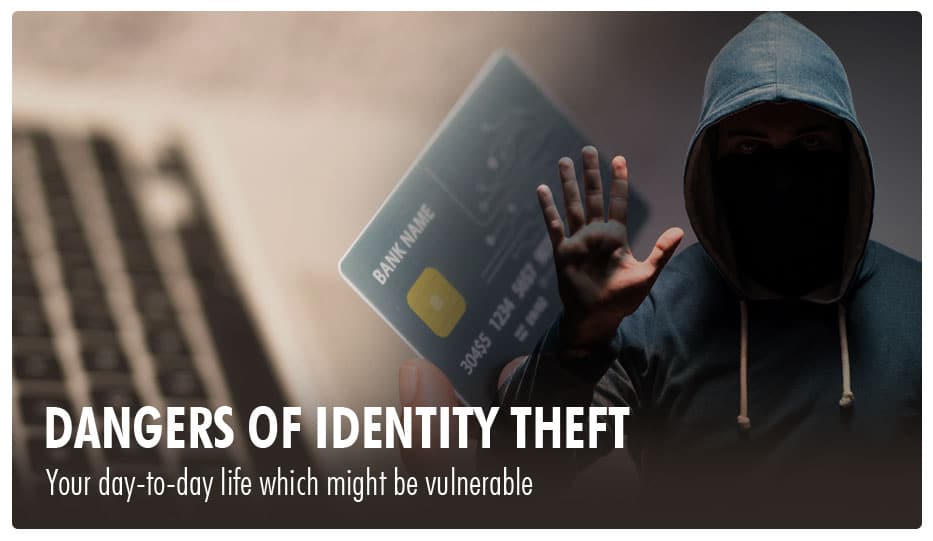 Identity Theft – what and how to stay safe?
With cloud storages and online platforms growing stronger by the day, it wouldn't be an exaggeration to say that we have digital equivalents of our identities up on the internet these days. SD Card filling up with photos? Save to Cloud! File Access necessary from all devices? Save to Online Drives! Technology has been developed that now even allows us to store the digital forms of our identity proofs like PAN or AADHAAR to secure services like the DigiLocker. The allure of safe storage, 'anywhere-access', paper-free document retrieval and many other features are pulling citizens across the globe towards putting data up onto the Internet. No doubt, the security standards of giants like Google (Google Drive), Microsoft (OneDrive) and other big corporations is well above par. But does that mean you should not take vigilant steps on your own behalf? Maybe not.
What is Identity theft?
Identity theft occurs when an intruder gains access to your sensitive credentials like login details or unique identification tokens. According to McAfee India, identity theft is fast growing as the cyber-crime targeting Indians heavily. Data shows that Indian citizens are easy targets for identity theft because we lack proper cyber etiquettes and are careless with our online presence. Recommendations from cyber-security suggest discretionary use of sensitive data on online platforms, maintaining —and deleting —records in a proper manner, and managing our databases with due diligence.
The areas of your day-to-day life which might be vulnerable include credit card details, social media credentials, medical records and banking. If you're an employee of an organization that promotes the work-from-home culture and facilitates connecting to the company's resources remotely, you need to take extra care; your missteps could have consequences for the entire organization.
PII – What is it and why do you need to safeguard it?
Businesses are built on primarily two pillars: value and trust. A simple blunder could turn all the company's efforts to dust. Customers are attracted by value, but they are retained through trust. Over the course of partnerships, customers entrust the business with sensitive work-related or personal data, depending on the model of the business. Digitization has led businesses to store huge volumes of customer data up on the Internet. This often includes a particularly vulnerable chunk of information called as PII.
PII is Personally Identifiable Information. As discussed before, this forms the digital 'copy' of your own self on the Web. PIIs can include credit card numbers, social security numbers, birth dates, financial details etc. It is typically collected in the course of sales, applications for credit or loans, and in the course of employment. Organizations store PII on company databases, storage disks or the company cloud. And anything accessible to you on the internet automatically goes up for grabs for hackers and intruders, should you not be careful.
Smaller organizations are easy targets owing to the lack of strict data security practices. Generally, small to medium scale businesses do not allocate a dedicated team to handle sensitive data collection and storage tasks. Lost portable drives, data breaches due to careless storage of passwords and credentials, security holes in the network which transfers PII information, ill-intended insiders etc are points of entries for intruders. Once gain access to your online 'identity', criminals can mine the data for financial credentials, resort to blackmail, start attacking the company's reputation so that you lose your clients and all your hard work.
Safeguarding yourself
You can read Logix's Vishing and Phishing blog to better understand the tricks and techniques used to bait victims.
Furthermore, it won't hurt to partner up with dedicated online security specialists for all-round security. With more than 19 Years of experience in Enterprise Email & Email Security, Logix is well positioned with its experts to discover, interpret, assess and analyze your DMARC compliance. Our team will handhold you through a well-defined action plan to achieve maximum compliance for your organization. Logix since 1999, is a committed and acknowledged provider of managed services, solutions and products in the Cyber security space with a dedicated team of nearly 20+ professionals supporting Business enterprises across PAN India from Banks, Government entities to Financial Institutions. We enforce multi-layered, multi-tiered Security approach using multiple threat intelligence detection & prevention tools to safeguard your Email as well.
Find out more from our Cyber Security Service page and make an informed decision.