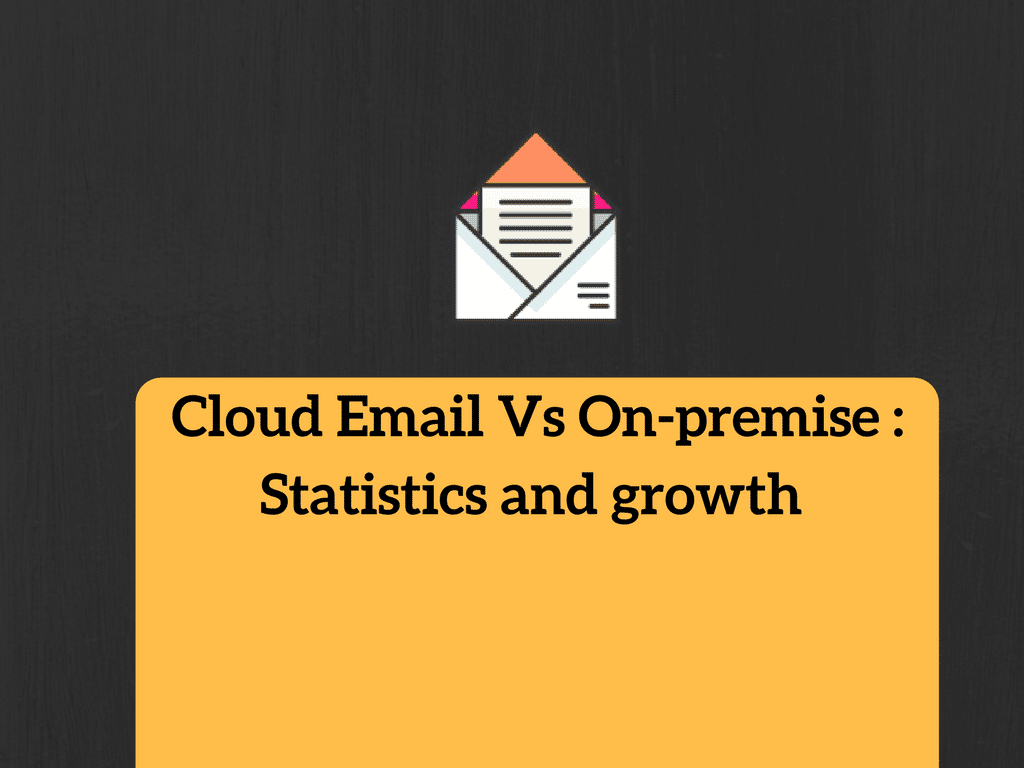 The cloud email market is still in the early stages of adoption with 13 percent of identified publicly listed companies globally using one of the two main cloud email vendors, according to Gartner, Inc last year. So we thought to highlight Cloud Email Vs On-premise : Statistics and growth
Gartner found that :
8.5 percent of public companies in the sample use cloud email from Microsoft's Office 365 service
4.7 percent use Google Apps for Work.
The remaining 87 percent of companies surveyed have on-premises, hybrid, hosted or private cloud email managed by specialized Vendors.
Email Statistics Report, 2016-2020 by THE RADICATI GROUP, a technology market research says that :
Email use worldwide continues to grow. In 2016, there were over 2.6 billion email users worldwide. By the end of 2020 No of email users worldwide will top 3.0 billion. Nearly half of the worldwide population will be using email by year end 2020.
In 2016, the number of business and consumer emails sent and received per day were over 215.3 billion. It is expected to reach over 257.7 billion by the end of 2020 growing at 4.6% over the next four years.
Email continues to see strong usage in the business world.
Mobile Email usage also continues to show rapid growth. In 2016, worldwide Mobile total Email users was over 1.7 billion. Currently, 65% of email users worldwide access their email via a mobile device. Strong growth of mobile email use with both business and consumer users is expected to continue over the next four years.
New Trend : Going Hybrid
According to Okta's Business@Work 2016 report, discovered that a surprising number of Okta customers across all industries are inviting both mix of cloud emails that is going Hybrid Way. Survey data showed that over 40% of companies using both Google Apps and Office 365 because different departments prefer different applications, presumably for online collaboration.
So to conclude we see a lot of opportunities of moving those On-premise setups to Cloud Email.At the same time, Hybrid Email is the most adopted model. Logix Infosecurity is the leading provider of Hybrid Email Solution. If you face any challenge of Cloud Email Vs On-premise Email Selection, our Free Consultancy may help you in your decision.