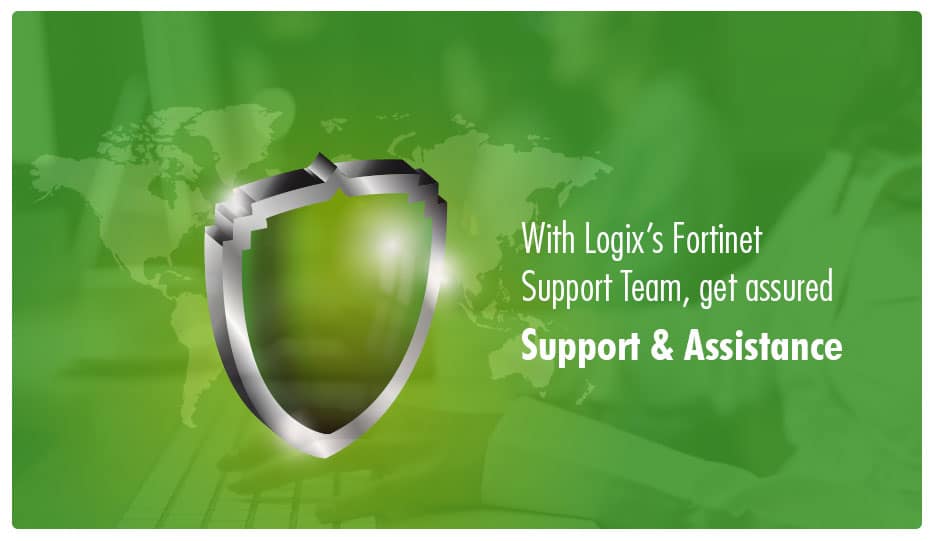 With Logix Support, Get Assured Assistance for your Fortinet products
No company in the world is immune to cyber threats. Organizations that opt for security solutions also seek for an integrated and automated approach to network security. However, organizations find it challenging to deploy any new technology or managing complex enterprise networks. Logix Fortinet Support help companies accomplish their objectives by offering a flexible set of support and backing that the client requires.
Get the most from your Fortinet Products
Fortinet provides cybersecurity to all kinds of enterprises, service providers, and government organizations around the world. It empowers its customers with intelligent, seamless protection across the expanding attack surface and the power to take on ever-increasing performance requirements of the borderless network—today and into the future. However, every company's security fabric and outlook need fine-tuning as per their bespoke needs and requirements. When it comes to security, your lookout should be towards getting maximal benefits.
Logix Fortinet Support
Logix Infosecurity is a proud Gold Partner of Fortinet. We are resellers of the Fortinet Firewall products and we provide round the clock assistance and security. One of the key reasons why we stand out in the crowd is our support. A 'there-for-you' attitude with a personal teach is our specialty. We believe in business relations, not just business transactions. With an aim to build long-running business relations, we treat every customer of ours as our most important one.
Get Help from Certified Professionals
Over 90% of our technical team is Fortinet NSE-4 Certified. Even our Sales Team is NSE1/2/3 Certified, and our Marketing Team is NSE 1/2 Certified.
We manage over 2500+ devices PAN INDIA with multiple solutions like Firewall / WAF / ADC / Access Point / FortiClient EMS / FortiAnalyzer / FortiManager / FortiSwitch
Logix supports its existing customer base 24 X 7 X 365 from our Support Operation Centre which operates out of our Navi Mumbai office. The SOC teams guarantee a variety of support levels i.e. Platinum Support / Gold Support / Remote Support
The Logix Fortinet Team extends support to its end customers if there is any issue related to firewalls. We assist our customers until all issues are rectified.
Logix also handles more than 20 Standby boxes which are available in multiple regions, where Logix maintains customer. We maintain a 98% SLA (Service Level Agreement) during the Hardware Failure Scenario.
Logix is capable of handling L3/L4 level issues and rectifying them by the relentless backing of our support team.
The Logix Fortinet Team can successfully migrate from pre-existing security systems in place to the Fortinet solution and also manage critical infrastructures.
SLA
The platinum or Gold Support Service Level Agreement (SLA) is set based on specific terms and conditions under which Logix provides support services.
Customers can raise a ticket/issue on the Logix Support Desk Portal. The support team would resolve the issue based on the customer's inputs either through remote or on-site support. The status of the ticket can be tracked on the support portal. Once the issue is resolved, Logix will update the status of the ticket to 'resolved'.
For more details on SLA, write to sales@logix.in
Get Fortinet Support from the Experienced & Certified Logix Team
Our Support Operation Centre is located in Navi Mumbai and is manned by certified technical personnel who monitor all the contracted devices of the customers.
Using sophisticated network tools and detailed reporting scripts that analyze the traffic, the SOC team proactively optimizes customer perimeter security products, seeking to resolve issues before they impact your user's experience.
Learn more about our support team and decide if you need a partner like us at your backing!
If you are our existing customer, kindly write to support@logix.in
Logix team has the expertise to manage and deploy Fortigate solutions. For any Fortinet related product information, please write to mkt@logix.in
Get a quote for Fortigate Firewall Run rate models per unit prices – https://logix.in/fortigate/