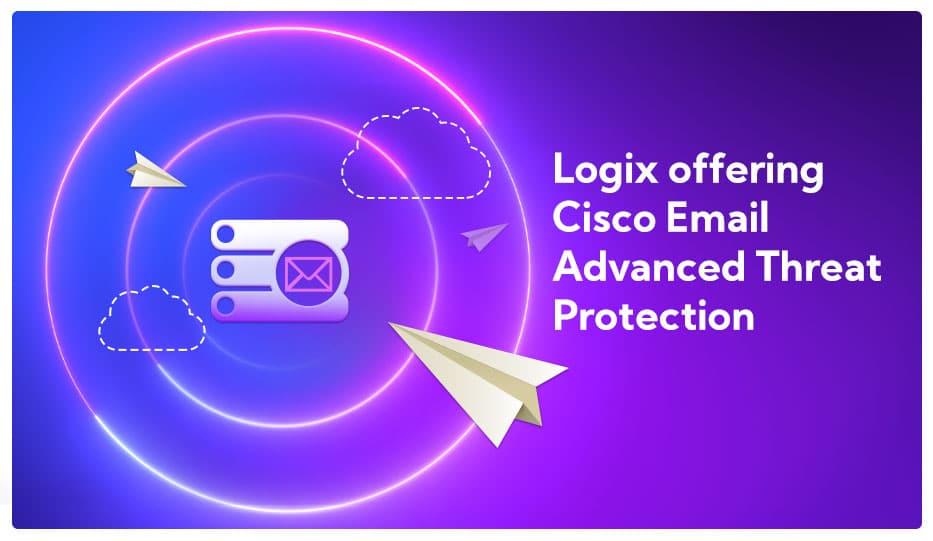 Cisco provides email threat protection services that can combat all advanced mail threats. Going into the new year, email security is going to be more important than ever. Traditional email gateways fail to block all forms of latest threats and this has become a major challenge for organizations to detect or block email threats. You'd be getting a jump on emerging email threats by choosing modern email security solutions to protect your organization. Why wait for an attack to occur, to get wise to these very real dangers of email penetration?
Read: Why email security will take precedence over other forms of online security.
Cisco IronPort Email Security ATP
Cisco IronPort Email Advanced Threat Protection service stop cyber-attacks like Business Email Compromise, Phishing, Ransomware, Malware, Spoofing attacks, and other email threats. It also protects against sensitive data from being stolen.
Logix is offering dedicated Cisco IronPort Email ATP services which use Cisco Talos intelligence and Machine Learning to quickly identify threats and take the required actions. It provides comprehensive email protection for Microsoft 365 users.
Key Highlights of Cisco Email Security
Bundled Services
DMARC and Bulk Mail services are bundled with Cisco Email ATP
As email security and mailing solutions are so closely related, your business is going to need allied services down the line. Why not get them all at once? If you are using a mailing solution, you will surely need bulk email to send mass emails to your prospects and clients. And as you would be using emails so heavily, there is a need for your email domain to authenticate emails.
DMARC helps in preventing your email domain from spoofing/impersonation and also improves email deliverability. Bulk Mail facilitates users to send bulk/mass emails (emails containing similar content to multiple external domain recipients)
Two-Way Protection
Cisco Email ATP scans both incoming and outgoing emails. It performs security checks against all the attachments of all the emails. If it finds a potentially dangerous attachment, it will not only report the error but also tackle the threat. This guarantees maximum inbox security, and reassurance that you won't have to waste time with email threat protection.
Data Loss Prevention (DLP)
IP Theft is a serious security issue. Intellectual property is one of the most sensitive, closely guarded data that must not reach the wrong people. With Cisco IronPort Email ATP, you set clear restrictions for the types of data that cannot travel by email. All outgoing mails are scanned against each DLP restriction. With rigid rules in place, employees simply cannot send attachments that you have restricted.
Email Encryption
"For You Eyes Only" is not just a James Bond movie, but also a very frequent business need. Cisco IronPort Email ATP secures both incoming and outgoing with an encryption profile. This encryption profile is verified through a key server. The encrypted email can only be decrypted if the key server is able to authenticate the public and private keys, at the receiver's inbox. This means your email cannot be intercepted in the email channel, and no-one other than the trusted recipient of the email will be able to read the contents of the email.
Dedicated Offering
When you partner with Logix, the reigns are in your hand. You can give us your business requirements, and we will assist you with the setup. The dedicated Cisco IronPort Email ATP is hosted and supported by Logix at its multiple data centers present in India. The setup helps you with logging, reporting, and also place stringent threat protection policies as per your requirements.

Email is the primary attack vector used by hackers. Protect your email today with our email threat protection services. For more details on the threats prevented by our Cisco Email ATP, visit our Cisco email security service page.
You can also opt for 30 days free trail to test the solution – https://logix.in/cisco-email-atp/