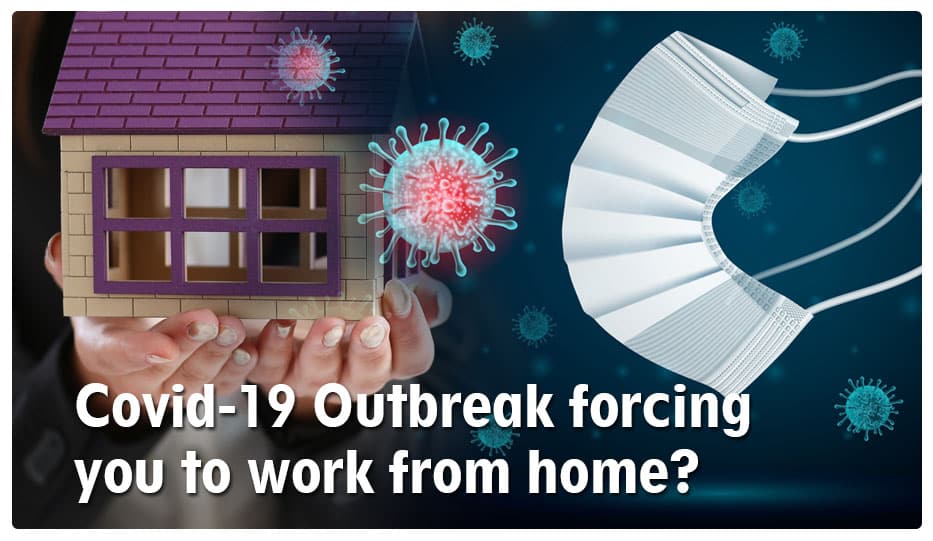 Covid-19 Outbreak forcing you to work from home? Here are the best security practices you MUST follow for maximum security.
Every new day is bringing new developments about the Covid-19 widespread. Very recently, we were declared to have entered Stage-3 of a pandemic, meaning that the threat of infection is no longer restricted to just outsiders; it can sustain its growth from within the people of the country itself. In order to contain, health organisations and researchers and the government are all caught up in a mad scramble to contain it. Malls have been shut down; restaurants closed. The government has even issued decrees banning citizens from gathering in the streets as groups of more than four. The world as a whole is inching towards lockdown. But what about work? What about business? As the saying goes in theatre, the show must go on. Unable to simply declare a pandemic holiday, more and more organisations have started encouraging the work from home (WFH) culture.
General guidelines issued for employees cover most of the stringent work-related practices: NDAs, working hours, non-disturbance, BAU (business as usual) etc. If you are a business owner, you likely already briefed your team about what level of throughput you expect from the Work from Home endeavour. But did you consider security? Most people think VPNs and setting up Login hierarchy levels are the limits of remote site security. While these mechanisms can act as complimentary security enforcers, they are not self-sufficient enough to guarantee overall security. We have already covered Best Employee Practices for Security where we talk in brief about the Work from Home Culture. This blog takes a slightly different approach.
What are the things to consider when it comes to Work from Home?
Organizations face a number of different potential emergency situations, such as illness, flood, hurricanes, power outages, and of course pandemics such as the current coronavirus outbreak. Implementing a business continuity plan is essential to ensuring that the organization is capable of maintaining operations in the face of adversity and preparing for potential disasters.
An important consideration for organizations developing a business continuity plan is that the organization may not be capable of sustaining normal operations onsite. The ability to support employees working remotely (work from home) is essential to ensuring both business continuity and security. Our partners at Fortinet Solutions offer an integrated solution to support telework. FortiGate next-generation firewalls (NGFWs) have built-in support for IPsec virtual private networks (VPNs), enabling remote workers to connect securely to the company network. With endpoint protection, provided by FortiClient, and multi-factor authentication (MFA) with FortiAuthenticator, organizations can securely support remote work and maintain business continuity.
The ability to securely support a remote workforce is an essential component of any organization's business continuity and disaster recovery plan. In such cases, your business must be capable of supporting secure, remote connectivity to the corporate network.
Beyond offering encryption of data in transit, via a VPN, Fortinet solutions offer a number of other features that can help an organization to secure its remote workforce. These features include:
Auto VPN Connect: FortiClient simplifies remote user experience with built-in auto-connect and always-up VPN features. Connection Options – Auto Connect VPN before Windows logon, IKE Mode config for FortiClient VPN IPsec tunnel (Same policies will be applicable through FortiClient from Office FortiGate Firewall)
Multifactor authentication: FortiToken and FortiAuthenticator enable dual factor authentication of remote employees.
Data loss prevention (DLP): FortiGate and FortiWiFi provide DLP functionality for remote workers, which is essential for teleworking executives with frequent access to sensitive company data.
Advanced threat protection (ATP): FortiSandbox offers analysis of malware and other suspicious content within a sandboxed environment before it reaches its destination.
Wireless connectivity: FortiAPs provide secure wireless access at remote work locations with full integration and configuration management in a single pane of glass.
Telephony: FortiFone is a secure, voice over IP (VoIP) telephony solution, whose traffic is secured, managed, and monitored by a FortiGate NGFW. Available in soft client and several hardware options.
FortiClient: An offering that fits every WFH Security Need
FortiClient offers Lock down visibility and control of your software and hardware inventory across the entire security fabric. In case security breaches occur while employees are working from home, it can be difficult to pinpoint the weak link in the network. With FortiClient you can identify vulnerable or compromised hosts and track all details of systems and user profiles across your attack surface.
FortiClient's Security Fabric Integration, ensures that all fabric components – FortiGate, FortiAnalyzer, EMS, Managed AP, Managed Switches, Sandbox – have a unified view of endpoints in order to provide tracking & awareness, compliance enforcement and reporting, no matter the physical location of your end-node. Advanced Threat Protection automates prevention of known and unknown threats through built-in host-based security stack and integration with FortiSandbox and FortiSandbox Cloud. Easy to use Secure Remote Access & Mobility via SSL and IPsec VPN. FortiClient connects every endpoint to form a cohesive security fabric.
When you have comprehensive solutions protecting your systems, your systems can survive any disaster without hampering day-to-day business. For more details on the product and for easy acquisition, write to us at sales@logix.in and we will get back to you with answers to all of your queries.