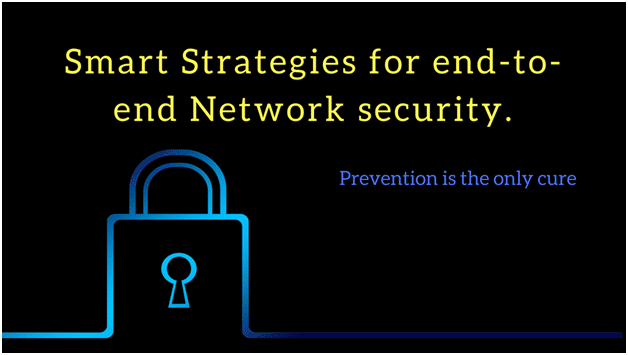 Network is the lifeline of any operating business. Almost 99% of the work is done using machines, connected in some way or the other be it LAN, WAN or cloud. Billions of devices are connected via the network and hence scalability of the tools to detect the attack is even more critical now.  Network security thus is essential in keeping the customer and company data secure. It is also important that a company has the capability to quickly detect an attack, preventive measures are taken easily and solution to fix the problem are executed swiftly.
DLP tools are definitely helpful to keeping the data safe but they aren't enough to keep intruders away. With IoT devices digital business is booming and hence there is a need for tight security strategy to keep the businesses run smoothly.
A systematic approach to network security can take place via-
Parallel networking-
Network segments used to be a method to keep different parts of the network separate and possibly protected, but this is no longer possible. Attacks in the recent times have shown that intruders enter the network from vulnerable spots and move into the network gradually.
A good way to solve this problem is keeping parallel network which are physically separated. Sensitive data can be separated and hence better monitored.
Threat detection system-
Threat detection is the area where latest technology needs to be in place. Intruders are turning highly sophisticated with spear phishing, ransomwares and exploiting different methods to get into network. Detecting or diagnosing a system when the intrusion is happening can save a lot of disaster. Usually companies get to know of intrusion months after it has taken place.
Vulnerability testing can be handy tools in this case, but only if actions are taken after the test.
Agile response and educating the network users-
Once the detection is done, the ability of a company to make swift decision to take control of the situation and mitigate the issue at hand is crucial. This has to be done keeping in mind the disruption the intrusion can cause on the business process, brand image of the company and potential loss of customer.
Quick and definitive action in this case can help companies.
Educating the user is another crucial factor which can enhance network security. This can flow as a part of the culture of the company.
Securing the network without compromise on any parameter is what time demands. The attributes which are important for a network security tool are-
Scalability- the should be able to scale laterally and detect threats across ubiquitous network.
Awareness- the tool should be full aware of what is happening in the network, from users, data flowing in and out, to content.
Security- providing security to network
Action oriented- providing actionable security architecture to quickly detect and mitigate attack.
Open- the deployment of tools should be easy and hence open in terms of API's it is being deployed on.