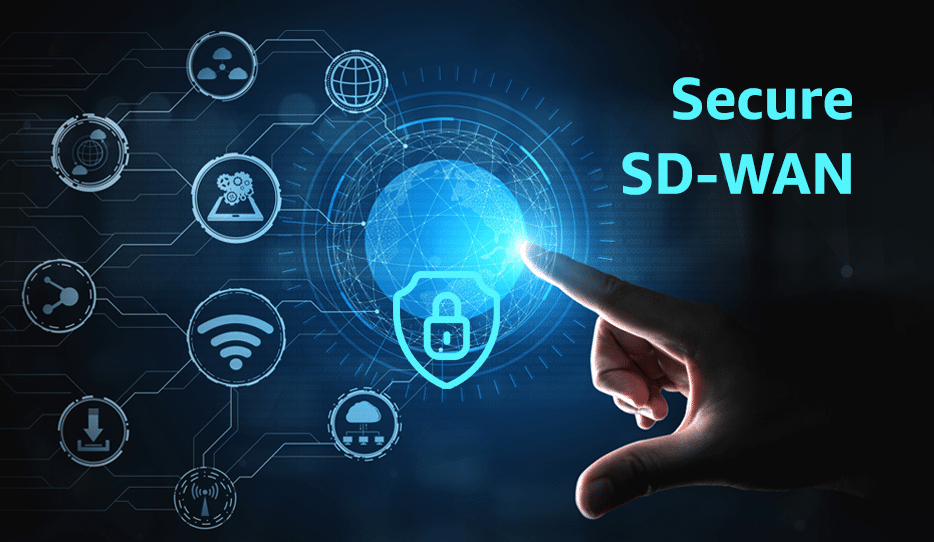 Wide area network i.e. WAN is a telecommunications network which spreads over a large geographic region. It helps facilitate communication and exchange of information between devices located far away from each other. However, Wide Area Networks are too expensive in terms of bandwidth usage per data request. It also takes a lot of time and effort for troubleshooting. It's not totally safe to trust the WAN as it is a public network that makes use of many disparate technologies and has a wide span. SD-WAN or Software Defined WAN simplifies the wide area network administration challenges. SD-WAN simplifies operations with a high degree of automation and with the best management methods.
About SD-WAN (Software-Defined WAN)
The purpose of SD-WAN was to provide WAN simplification, better data privacy, and easy connection between data centres. It became easy to replace expensive, time-consuming connections with the SD-WAN.
Features of SD-WAN
Encryption
With SD-WAN, it's very easy to set up a multipoint VPN with the IP-Security. It's cost-effective and highly safeguarded. A tunnel across the locations and headquarters is created through end-to-end encryption. Nowadays, every connection should be checked for point-to-point security. Sensitive information has to be protected with data encryption. SD-WAN provides this facility.
Redundancy
SD-WAN reroutes network traffic around the network breakages which are caused due to improper traffic management, loads, etc. Fallback mechanisms such as mobile networks automatically kick in. Such redundant multiple internet connections are pocket friendly than dedicated connections.
Routing-bandwidth
SD-WAN bandwidth, a cloud-delivered service, provides economical options with the flexibility to increase server bandwidth through broadband options. This broadband is quite inexpensive.
Today's need
SD-WAN configurations need an additional layer of security. Most of the organizations now use public cloud rather than private communications amongst the company. And they rely on the Cloud Service Provider's native security mechanism, which may not always be the prudent decision.
The fact is, SD-WAN is limited to site-to-site VPN security. It lacks integrated security features. SD-WAN also lacks on-site security. The network performance, too, is a little slow. Secure SD-WAN overcomes these problems through its user-friendliness and enhanced capabilities.
About SASE
Secure Access Service Edge provides a gateway to building a secure WAN network that connects data centres, remote users, cloud services, etc. Employees need stable connections for a steady workflow. So, a well-created SASE network helps in achieving this objective. Secure authorization and easy connection of resources are possible through this platform. The end results are a combination of SD-WAN and services like firewall-as-a-service (FWaaS). These networks are easy to scale and manage.
SASE and Secure SD-WAN
Secure SD-WAN is incorporated in the SASE. A high level of security is required for dispersed resources, especially for agile networks. This need has increased even more due to SaaS apps and remote working. Networking just for the sake of connecting to web resources is no longer enough. Cloud services and SaaS apps have to be firmly connected. Extension of the Secure SD-WAN helps in meeting this need.
Firewall-as-a-service and Zero Trust Network Access
Firewall-as-a-service is a network firewall that allows IT infrastructure simplification. It gets easily integrated into the network.
Firewall-as-a-service and Zero Trust Network Access are the components of the SASE architecture. Each is independent of the other component.
FwaaS along with the combination of SD-WAN offers many security improvements over traditional SD-WANs. Through the use of the cloud, all company locations are firmly connected. They don't need to be publicly accessible.
Many people work remotely using various networks. When a connection is safe enough, the user can easily make use of the network with proper security, thereby increasing productivity. With ZTNA, users get secured access through proper authentication and authorization channels.
Zero Trust Network Access is a solution that provides secured access to an organization's data or services. It's established on the principle of 'never trust, always verify.'  ZTNA checks the user, each time he/she requests resources on the network. With its integration with SD-WAN, secure SD-WANs extend security features to all endpoints. A trust for dependability is achieved.
Opting for a Secure SD-WAN
Some companies rely on both the cloud as well as on on-premises deployments. The best way is using hybrid networks. This benefits the intent-based routing which is available with the SD-WAN. Being able to decide the shortest and the best route on the network traffic is considered to be a feasible solution.
Mix-and-match solution
This method helps the organizations in their existing deployment.
Security in the workplace is one of the most crucial parts as it keeps the employees' and the companies' spaces safe from a lot of harm caused. It's the responsibility of the businesses to safeguard not only the employees but also its assets along with protecting all the valuable data from any kind of threat.