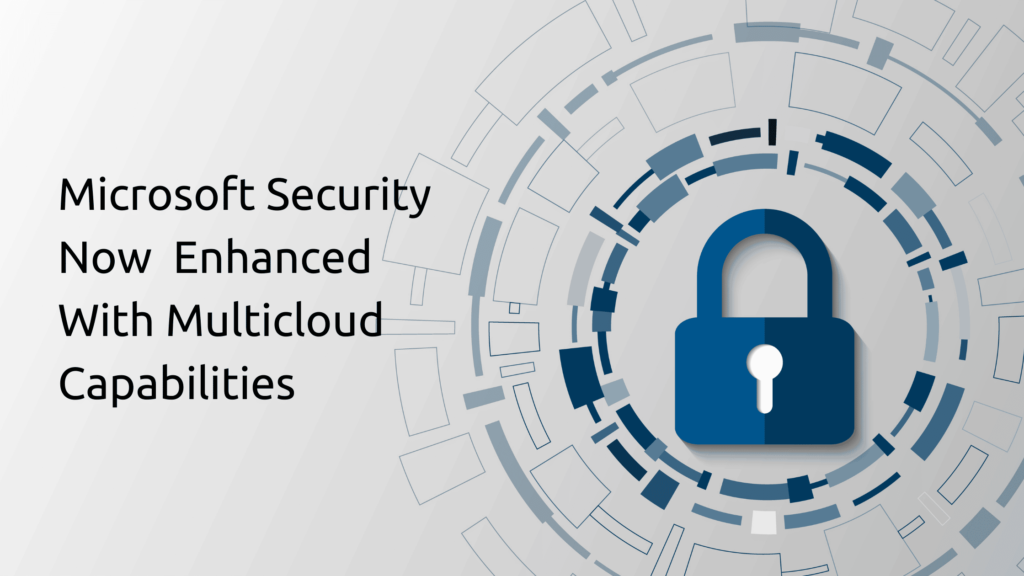 Microsoft is often known for its dependability and comprehensive solutioning. However, customers seldom realize Microsoft's versatility and agility. When the pandemic introduced new pain points for Microsoft customers, they had the foresight to introduce new capabilities into the technologies that were slowly emerging as customer favorites. Accordingly, Microsoft Security enhanced their arsenal to now provide new multicloud capabilities.
Cloud, mobile, and edge platforms have become pivotal in business continuity and innovation. While this is a plus point for business, this eclectic mix of technologies adds to the complexities of security. SOC (Security Operations Centre) Teams must now keep abreast with the host of secondary devices of conducting business, communicating with remote teams, and collaborating on multiple projects. Security professionals in an organization should also pay heed to the new multicloud, multi-platform avenues of storing and accessing data. If they don't adapt to changing conditions, it will be increasingly difficult for them to detect and fix security blind spots.
Considering all this, security is definitely in want of a robust innovation. Microsoft Security is already on a path to empower their customers to navigating these security complexities and handling their digital presence securely. In keeping with this mission, Microsoft recently announced enhancements to their multicloud capabilities.
Advancements in Multicloud Microsoft Security
Microsoft is now empowered to offer enhanced security by extending the native capabilities of Microsoft Defender for Cloud to also include the Google Cloud Platform (GCP).
With GCP support, Microsoft is now the only cloud provider with native multicloud capabilities. With this enhancement, Microsoft Security will protect the industry's top three platforms: Microsoft Azure, Amazon Web Services (AWS) along with the new addition of Google Cloud Platform (GCP).
Microsoft Defender for Cloud identifies configuration weak spots across these cloud platforms to help strengthen the overall security posture in the cloud. It also provides threat protection across workloads—all from a single place.
Support for GCP comes with highly actionable recommendations that allow you to configure GCP environments to comply with key security standards like the Center for Internet Security (CIS) benchmark.
Zero Trust with Identity Security from CloudKnox
In a multicloud environment, the sheer number of platforms, devices, users, service requests, and locations add radical complications. Securing those dynamically changing identities and access privileges is one of the core pillars of multicloud protection.
However, organizations find it challenging to get complete visibility and control over such a dynamic environment. To combat this situation, Microsoft has acquired CloudKnox Security, a leader in Cloud Infrastructure Entitlement Management (CIEM). With this move, Microsoft enabled themselves to assist customers in managing permissions and privileged access in their multicloud environment. This in turn, strengthened their Zero Trust security posture.
Managing Security Data with Microsoft Sentinel
Microsoft rightly believes that true security can only be achieved if the boatload of security data generated by threat monitoring and combatting security tools can be managed and digested.
However, with the frightening volume with which this security data is growing, a one-size-fit-all model cannot sustain itself.
Microsoft is now working with Security Information and Event Management (SIEM) data to innovate new ways to access and analyze your security data.
To that end, Microsoft announced the launch of enhanced logging capabilities to Microsoft Sentinel. This allows Microsoft Sentinel to sift through high volumes of data to detect high-severity, low-visibility threats.
The improved Microsoft Sentinel is also equipped with new data archiving capability to extend data retention to seven years (which was previously two years) to comply with global data compliance needs.
In essence, you can now search massive volumes of security data swiftly and easily from your logs, analytics, and archives.
Comprehensive Enhancements to Microsoft Security
Today, security breaches appear from both inside and outside an organization. This calls for a comprehensive security approach that spans your entire security posture across a multicloud platform.
To that end, Microsoft has made important security enhancements.
Secure workload identities with Azure Active Directory (Azure AD)
With this Microsoft Security enhancement. Axure Active Directory can now safeguard workload identities for cloud-based apps and services along with protecting user identities. Now, Identity Protection can also secure workload identities.
Secure payment processing in the cloud with Azure Payment HSM
Microsoft recently launched a new service, Azure Payment HSM. With this, Microsoft security will cover payment card issuers and network & payment processors to securely accept and process payments via the cloud.
Azure Payment HSM provides the highest levels of security for cryptographic keys and customer PINs for secure payment transactions.
Begin your journey towards peak productivity with optimal security
Logix is a Microsoft Gold Partner, which for you means an official stamp of approval from Microsoft itself. Being a cybersecurity company, we are totally with Microsoft Security in its new approach to data and cloud security.