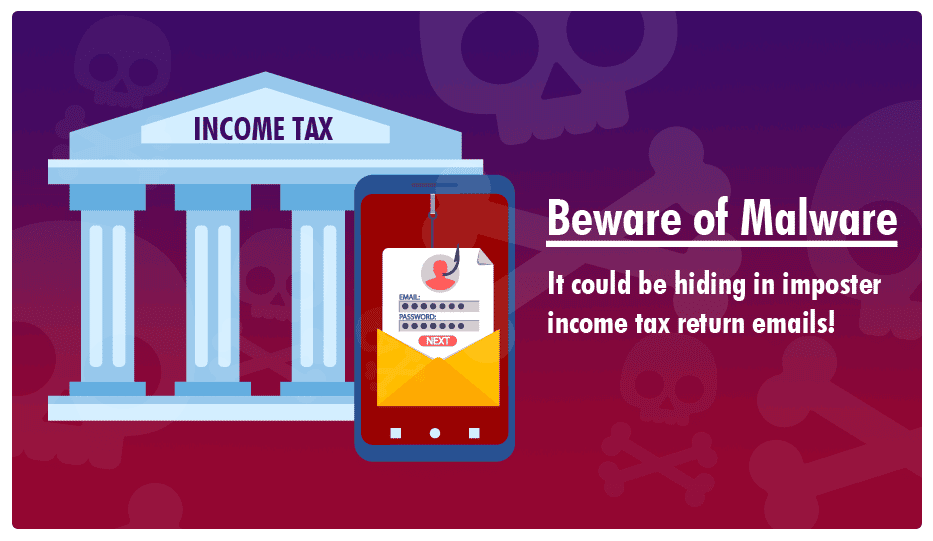 Beware of Malware – It could be hiding in imposter income tax return emails!
The internet has enabled individuals and companies to explore, innovate and expand. But it has also made life easier for scammers, malware attackers and hackers as their victims are more accessible to them than ever.  
Recently, a malware was found in emails disguised as emails from the Indian Income Tax Department. This malware is taking advantage of the recipient's worries about the status of their business with the department. The Indian Computer Emergency Response Team (CERT-In) has stated that "A phishing and malware campaign is active since at least September 12 and is targeting individuals as well as financial organizations. The campaign involves fake emails purporting to be sent from the Indian Income Tax Department," 
According to the advisory, two variants of the emails have been found. One of them has an attachment containing an .img file containing a malicious .pif file. In the second variant, the worried recipient is lured into downloading a .pif file hosted on a fraudulent domain. However, this domain has now been disabled. Some of the samples of these fraud emails have the following subject lines: 
"Important: Income Tax Outstanding Statements A.Y 2017-2018"

 

Income Tax Statement XML PAN XXX895X.pif

 

Income Tax Stat

e

ment

XML.img

 

Income Tax Statement XXX8957X.pif 

 
CERT cautioned users against opening documents from untrusted sources and to disable running macros in MS Office. It also strongly advised users to not open attachments in unsolicited e-mails even if they come from people in your contact lists and emphasized the importance of never clicking on a URL contained in unsolicited e-mails. 
Safeguard your inbox from spam and cyber-attacks; this will help strengthen your business and networks. 
 This has become a need of the time for every organization as well as for individuals all around the world. Emails are the often targeted as the point of entry by most cyber-criminals, as they have a lot of importance in the day-to-day working of the organization. It is vital to plug in potential security leaks by fortifying your email security. 
 As one of the leading IT companies that delivers Email Security from its private cloud Infrastructure, Logix takes the protection of your network from threats very seriously.  
We at Logix have a core competency in securing over half a million mailboxes and safeguard your network and brand against Advanced Malware (known and unknown Malware), Spear-phishing, Domain Impersonation/ Domain Spoofing, Zero day, Whaling, Targeted Email threats, Ransomware, Crypto ware, Business Email Crime (BEC) attacks. We defend your inbox with our multi layered, multi-tiered Security approach, multiple threat intelligence detection & prevention tools provide essential configuring, migrating & supporting email security solutions tailored according to our valued client's unique needs. Click this link to know more about what Logix can do for you!