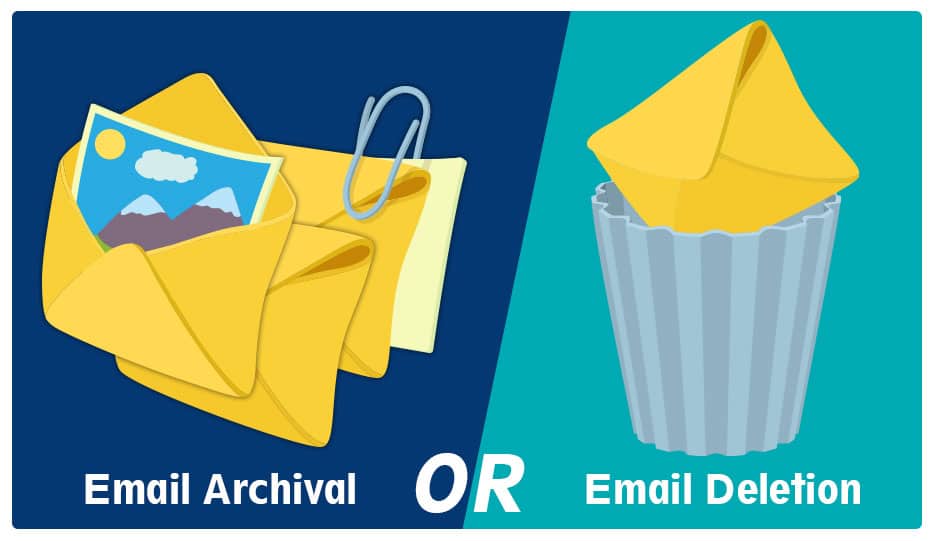 Is Email Archival Better than Email Deletion?
Every business relies on email correspondence to some level. But as the volume of mails starts swelling up, it may have an impact on the mailbox storage you have opted for. At one point, you may come at a crossroad: whether to delete older emails or to opt for email archival?
Considering the sensitive nature of emails, your primary instinct is to save everything instead of risk losing something you may need later. At the same time, you have a limited storage (although it may be huge) allocated for your mailbox. It gets filled up fast with transactional emails, account handling emails, and daily correspondence.
Taking these factors in mind, a majority of companies opt for email archival solutions. Email archival is a way of storing emails long-term. Emails are organized systematically for fast retrieval and later recall.
Email archives may be stored on local storage, i.e. on disk, rather than in the mailbox space. Or, archives can be stored on cloud storage. Whichever deployment you choose, your email archives are now separate from active mailboxes.
Some organizations feel this is an unnecessary overhead and expense, while for some it highly preferable, thus fanning the debate: should I archive emails or delete them?
The boon of mailbox structure and indexing
Nobody likes clutter. It distracts us from day-to-day work. As you grow your business, you may feel the deals you have already won are old news, and it's time to move on to newer business targets. Also, transactional emails and account handling emails may be system generated and don't require special attention as such.
Also, archived emails are geared for indexing and faster retrieval. With an archive, your mind is at ease, and you know emails that aren't in your inbox are within your reach anytime you want. You can even set rules and filters to direct mails to your archives automatically.
Quick Mail Retrieval
A business is a bustling, live creature. Employees come, and employees go. Whatever work an employee performs in the duration he or she is working the company ought to get documented. Not only that, his / her data should also be maintained after the employee has left the company for whatever reasons. Often, the employee who takes the previous employee's place will take reference of the work and communication left behind. For these purposes, an email archive is extremely useful, so that new members can pick up right where the old ones left off.
Productivity: Is it linked to email archival?
Indirectly as it maybe, a streamlined archiving process is linked to employee productivity. Some people, although stringent about reading and responding to business-critical emails, are not as disciplined about their inboxes.
A well-established archiving process enables you to set clear priorities, organize your work schedule better. Everything stops becoming a hectic to-do list, but rather a breakdown of doable tasks. You can't very well delete emails simply to get them out of sight, but archiving allows you to do that.
Regulatory Compliance
Every business is required to comply with regulations on how they manage their data. As a lot of  communication happens over email, it's also an important corporate record so it must be stored correctly. The strict regulatory environment is one of the major drivers behind the demand for email archiving solutions, at least for highly regulated industries like financial services, healthcare, government or education.
Should I archive everything?
Everything in moderation. A balance between email archival and email deletion works best. You know better the format and content of your email traffic. Considering the points which we've discussed in this post, you can take a call whether you want to archive emails or delete them
How can Logix help you archive emails?
Logix Mail Archival solutions are secure and dynamically-scalable. We provide various deployment options that are either on-premise or cloud-based. Deployment comes with an email archive that reduces complexity, eases risk, improves productivity, and helps address regulatory and compliance needs.
Business enterprises can effectively index and preserve all emails, enhance operational efficiencies and achieve regulatory compliance needs. We fully index and backup all email content, by leveraging standard policies and thus provide seamless access to messages. This enables administrators, auditors and end users to quickly retrieve any email message stored in an organization's email archive. More benefits, more productivity!