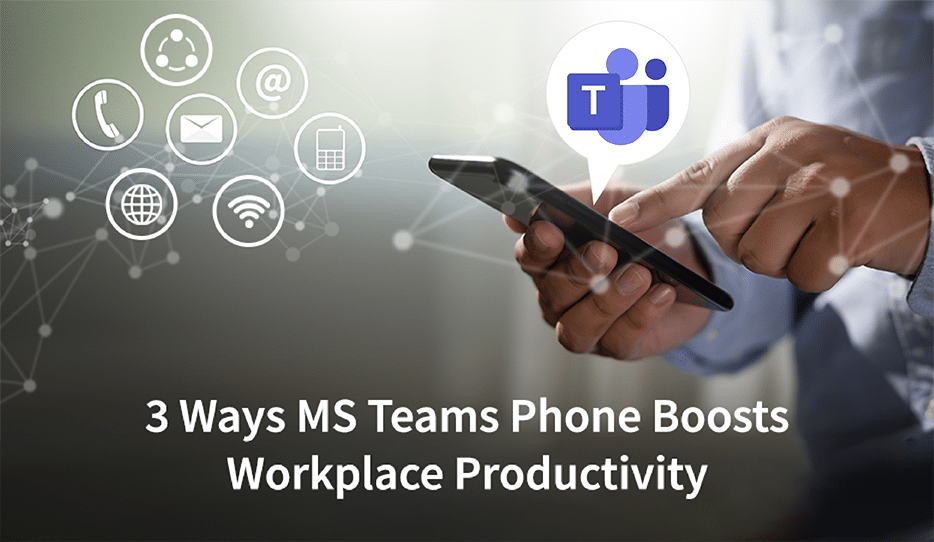 Voice communication is a crucial element in business that plays a vital role in bridging the gap between customers and business teams. It provides a safe and feasible way to communicate and interact with customers in a meaningful way. As businesses continue to evolve, voice communication tools like Microsoft Teams Phone remain a constant and reliable means of communication. They offer several benefits such as better security, resilience, growth of businesses, and customizable solutions for service support.
Microsoft Teams Phone is committed to its core mission of helping customers achieve more with less. By providing an intuitive and user-friendly platform, Microsoft Teams Phone empowers businesses to take their communication to the next level. With its customizable solutions and robust features, Microsoft Teams Phone is designed to cater to the unique needs of each business, enabling them to scale and grow efficiently.
Use Microsoft Teams Phone for uninterrupted, and highly effective communication
Microsoft's suite of services, including chat, meetings, calling, collaborations, and app integrations, continues to expand, with Teams Phone leading the market in cloud calling. Over the past 12 months, Teams Phone has connected more than five million public switched telephone network (PSTN) lines, solidifying its position as a leader in the industry.
Teams Phone is a powerful tool that streamlines work processes, saving time and boosting productivity. It is designed to facilitate effective meetings, seamless collaborations, and easy communication, keeping everyone informed and connected. By using Teams Phone, people can receive voice and video calls from Teams, with support for Voice over Internet Protocol (VoIP) and PSTN calls. This enables IT leaders to connect with clients, customers, and partners via chat or calls in Teams, making communication more efficient and effective.
Utilize the association and productivity with lower costs and high-level security
According to a December 2022 analysis report, Teams Phone has a three-year return on investment (ROI) of 143 percent, with a payback period of less than six months. Additionally, one small and medium-sized business (SMB) composite customer had a three-year ROI of 146 percent with the same payback period.
By utilizing Teams Phone, businesses can achieve a number of benefits that lead to potential ROI, such as increased productivity and efficiency, cost savings on communication expenses, streamlined collaboration and project management, and improved customer satisfaction through better communication and responsiveness. These benefits contribute to the overall success and growth of the business, making Teams Phone a valuable investment for any organization looking to optimize their communication and collaboration processes.
Cost Reduction:
Microsoft Teams Phone is a cost-effective solution that reduces costs across all categories including traditional telephony, VoIP PBXs, and other voice providers. By choosing Teams Phone, businesses can reduce long-distance and international call charges and mobile reimbursement expenses. The eliminated costs for the enterprise composite organization and the SMB composite organization were USD 10.8 million and USD 94,600, respectively. Teams Phone also offers benefits such as VoIP calling, screen sharing, video calling, and real-time shared access to all Microsoft 365 apps.
According to a lead IT engineer in telecommunications, Teams Phone has enabled their organization to reduce their telephony infrastructure footprint by 90% and eliminate servers that only handled calls, resulting in significant cost savings.
Reduce the Burden on IT:
Microsoft 365 and Teams Phone are on the same platform, saving time, reducing complexity, and requiring less specialized skills than other systems. Key tasks are quicker, allowing IT departments to reduce management and maintenance efforts. The SMB model observes a reduction in admin burden from 0.5 FTE to 0.1 FTE, while the enterprise model observes a reduction in effort from three FTEs to two FTEs.
A CIO in financial services stated that having everything on one platform is highly efficient and encourages more communication and collaboration, and it's easy to implement and use. The platform is secure and can be administered through the same administrative platform used for emails.
Save Your Valuable Time and Extra Efforts:
Microsoft Teams Phone streamlines work and enables users to focus on their main tasks, reducing the need to switch between different devices and platforms. This increases work efficiency and productivity, with users saving approximately 1.6 hours of mobile time and non-mobile users saving approximately 15 minutes per week. The three-year benefit for the enterprise composite organization is USD 8 million, while the three-year benefit for the SMB composite organization is USD 79,000.
A CIO in financial services noted that their organization is now more efficient because they have standardized on Teams for internal communication and collaboration.
Avail all the features of the Microsoft Teams Phone for best performance
According to analysis, a significant portion of employees (almost 68%) spend 30 minutes per day just switching between workplace apps. Effective communication and collaboration are essential for improving work efficiency. The Teams Phone is a device that can help streamline communication by providing a full-featured phone system that allows users to answer calls from anywhere on various devices. Additionally, the Teams Phone provides high-level security to ensure that sensitive business information is protected.
Is your business struggling to keep up with the demands of modern communication? Look no further than Microsoft Teams Phone – the solution that streamlines communication, boosts productivity, and takes your business to the next level. As a Microsoft Gold Partner, Logix InfoSecurity provides the expertise and added security necessary to deliver Microsoft services like Teams Phone with confidence, making sure your business is fully equipped for success.